Training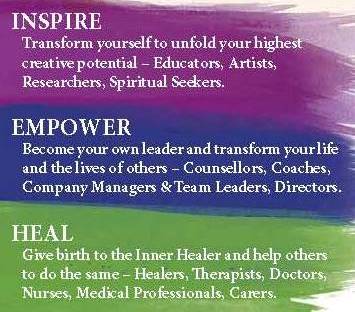 Year 1
Certificate in Mentoring for Personal Development & Leadership

The Foundation Year course offers skills for self-awareness, self-management, healing, transformation, communication and counselling skills, as a basis for leadership skills.
This course -
equips you with an educational and therapeutic process based on Psychophonetics.

enables an opportunity for further personal, professional, and community development.

provides a deepening of professional capacity, sustainability of self-care, and effective processing of life challenges.
Modules include

Fundamentals of Psychophonetics: Experiencing verbal & non-verbal expression through sensations, gestures, visualisation and sounds to explore the dynamics of your inner life.
Self Awareness & Self Care: Learning how to sustain your inner life and personal relationships, in face of the psychological pressure of modern life
Methodical Empathy: The 5 stages of empathy

Foundation of Psychosophy & Mentorship Skills

YEAR 2

DIPLOMA IN HOLISTIC COACHING & COUNSELLING
Prerequisite: Foundation Year
This course builds on year 1 and leads into the 3 &/or 4 year course to become a professional counsellor, coach, practitioner, or psychotherapist

Modules include

Holistic approach to human development

Methodical Empathy

Psychology & Psychosophy 2

Psychophonetics 2: Methodology of Experience Awareness
Expression therapy skills
Counselling for self mastery
Special topics: Part 1

Practic

um 2: Supervised

coaching & counselling

Ongoing personal development

YEAR 3
ADVANCED DIPLOMA IN PSYCHOPHONETICS - PRACTITIONER

Prerequisites: Year 1 & 2
This course is suited to professionals who wish to become Psychophonetics Practitioners and also for those who wish for career development and enrichment.
Modules include

Methodical Empathy and action processes of Psychophonetics

Psychosophy 3: Applied psychosophy
Applications + Theoretical research project
Psychophonetics 3: Action Sequences
Special Topics: Part 2


Practicum 3:

Supervised practice
Psychosomatics & integrative medicine
Ongoing personal development

YEAR 4
FELLOWSHIP DIPLOMA IN PSYCHOPHONETICS PSYCHOTHERAPY

Prerequisites: Years 1-3
The year 4 training course completes the practical skills and the theoretical framework required to become a fully qualified in Psychophonetics psychotherapy.
Modules include

Advanced skills in Psychophonetics psychotherapy
Practicum 4: Psychophonetics psychotherapy under supervision
Psychophonetics 4: Therapeutic studies
Research & development research

p

roject
Each year is composed of 5-6 intensive teaching blocks of 3-5 days each, written assignments & oral presentations, practice, lectures, and various other activities.

* Pre 2014, the year 3 qualification was equivalent to the current year 4 qualification. In 2014, year 3 was split into a 3rd and 4th year course.
For further information about current professional training courses

Contact Yehuda Tagar at Psychophonetics Institute International about courses currently being held in -

CZECH REPUBLIC:
www.pacepraha.cz
SLOVAKIA:
www.pace.sk
ISRAEL: www.shluvim.com